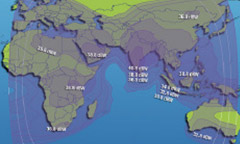 Intelsat 20
Position: 68.5 degrees East
Coverage: Europe, Asia (India), Middle East, Africa and North and South America
Intelsat 20 provides a full range of services in Ku and C-band for premium landmass coverage of Europe, Africa and the Middle East. Additionally, Intelsat provides coverage as far east as Asia (India) and as far west as South and North America.
Intelsat 20 in the Indian Ocean region is among the most valuable regional video neighborhoods, offering unmatched reach and connectivity for cable networks and DBS providers.
Intelsat 907
Position: 27.5 degrees West
Coverage: U.S.A., Canada and South America
W2A Ku-band Transponders cover a Wide beam footprint over Europe, North Africa, the Middle East, Southern Africa and the Indian Ocean islands. The Ku-band transponders enable connectivity between Africa and Europe.
The C-band transponder provides a pan-African coverage, extending to India and parts of Asia, as well as Latin America.