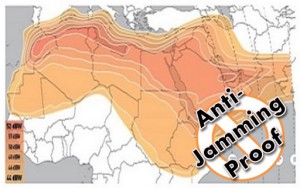 ECS is pleased to offer your respected channels space capacity over the prime Nilesat position opearted by the newest satellite within the Nilesat fleet.
As part of our deployment for ECS new ME distribution service for your TV channel over the Middle East and North Africa is now safe from jamming, stronger and offers better terms.
With ECS your broadcast over MENA is:
Better: Better coverage with increased reception power.
Safer: New technology of the satellite is designed for un-interrupted and safe anti-jamming service for GCC & MENA region.
Stronger: Due to its increased power viewers with their standard home antennas pointing to Nilesat will enjoy a better and sharper broadcast quality.