LiveU Matrix makes live content management and distribution simple, reliable, and affordable. Combining a powerful front-end with a reliable IP cloud-based transport layer, LiveU Matrix allows you to share and receive high-quality, low-latency live feeds with broadcasters and other stakeholders around the globe– inside or outside your organization.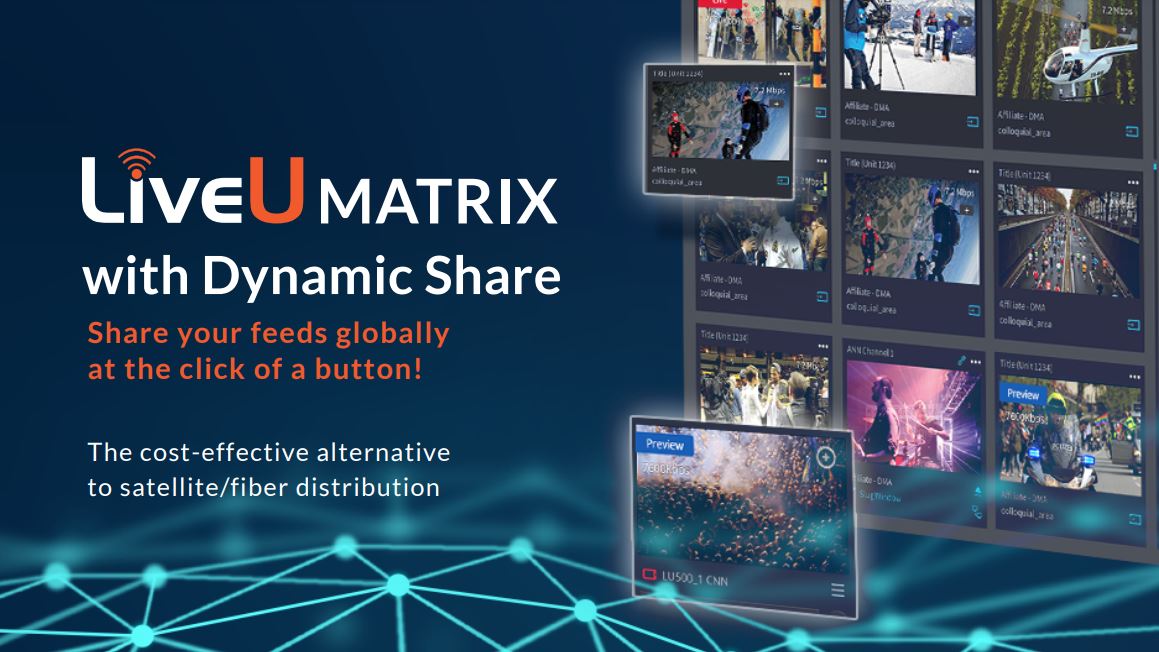 DYNAMIC SHARE – A NEW LIVEU MATRIX SERVICE
Dynamic Share, powered by the LiveU Global Directory, gives you the ability to distribute and receive live content from any LiveU customer using the directory. With over 3,000 global customers and 30,000 receiving points, you can easily share content, manage your destinations, and quickly receive content coming from another LiveU customer.
SINGLE, UNIFIED PORTAL FOR ALL YOUR VIDEO SHARING NEEDS
With Dynamic Share, powered by the Global Directory, all LiveU customers can access the entire LiveU install base, easily sharing or receiving content from thousands of broadcasters and content producers globally. With a simple click of a button, the LiveU Global Directory lets you instantly grow your exposure and content-sharing abilities.
DRIVING NEW MONETIZATION OPTIONS
Dynamic Share enables broader coverage of live news and events, allowing you to put a local spin on global news. Beyond expanding your content reach, you can also use the platform to generate new revenue streams. Dynamic Share allows you to easily monetize your content, controlling access to it, as well as its distribution destinations.

GET TO KNOW THE MATRIX TRANSCEIVER
The LiveU cloud video distribution service is poised to upend the way content creators produce and distribute their product. The LiveU Matrix Transceiver is designed for optimal versatility enabling you to switch on the fly between video distribution and contribution. Receive multiple low-latency, high-quality live feeds simultaneously by way of this highly portable rack-mounted unit. Source contributions from around the block and around the world and shift effortlessly between as many feeds as necessary. There's no pre-configuration required and you have the option to manage every aspect of your product remotely via the LiveU Central platform.
The Matrix Transceiver from LiveU combines encoding and decoding in a single, easy-to-use device enabling you to switch from output to input in the blink of an eye. You'll save time, money and hassles while simultaneously ramping up the quality of your productions. Eco-conscious producers will appreciate that by combining encoding and decoding into a single device you'll save power and reduce the carbon footprint of your productions. And with more than 5,000 current LiveU customers worldwide the potential for expanding your distribution capabilities is unprecedented.
THE FUTURE OF LIVE VIDEO PRODUCTION
News, sport, fashion shows, blockbuster movie world premieres or whatever other type of video production you engage in will benefit immensely from the Matrix Tranceiver's ability to simplify workflows, cut costs and enhance mobility. No more dead air, no more budget-driven compromises, no more scrambling to find relevant content. It's all right at your fingertips with the LiveU Matrix system and the keystone of that system, the LiveU Matrix Transceiver.
STEP UP TO THE BIG TIME
With LiveU Matrix you'll gain access to leading content producers from around the globe. Stream your live video production to television, mobile, social media or any other platform capable of receiving a high-quality, low-latency live feed. If your current video access and distribution setup is creating more frustration than satisfaction it's time to pivot and embrace a better way. LiveU Matrix is a 21st-century solution to longstanding live video production issues. Realise your potential and step up to the big time with LiveU Matrix.