LiveU Solo SDI/HDMI + LRT + 2 USB Modems Bundle
LiveU Reliable Transport™, or LRT, is the video and audio protocol developed over the last decade by LiveU. LRT is the power behind all LiveU devices and software, used extensively for video transmission, contribution, and backhaul, as well as worldwide video distribution over the public internet.

KEEP YOUR LIVE VIDEO SAFE
PACKET ORDERING:
Packet Ordering is an absolute requirement with connection bonding.
DYNAMIC FORWARD ERROR CORRECTION:
FEC adds some overhead to the stream to recover lost data faster. LRT automatically varies the FEC parameters based on network conditions.
ACKNOWLEDGE & RESEND:
If some packets did not arrive, it informs the streaming engine to resend the needed data. By acknowledging large groups of packets at a time, LRT uses less latency.
ADAPTIVE BITRATE ENCODING:
As bandwidth conditions change, LRT automatically informs the video encoder to adapt the bit rate of the video to keep the best possible stream within any given moment.
LIVEU SOLO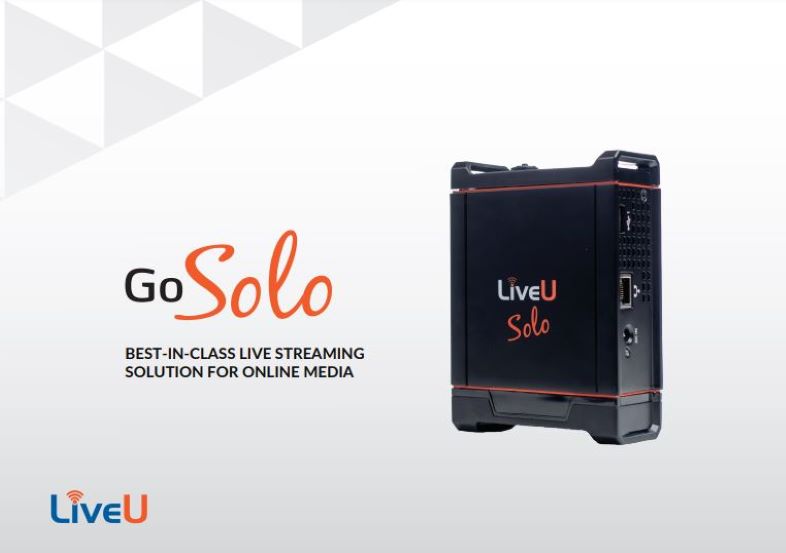 LiveU Solo is a professional-grade wireless video encoder offering one-touch streaming to Facebook Live and YouTube, as well as other popular social media networks and online channels. The light and compact Solo is perfectly suited for any type of mobile use allowing you to stream live video from anywhere.
SIMPLE – STREAM DIRECTLY TO LEADING SOCIAL NETWORKS
Just connect LiveU Solo to your camera, log into the web-based Solo portal to select your streaming destination and go live!
RELIABLE – GO LIVE FROM ANYWHERE
Solo combines up to four connections (2 cellular modems, Wi-Fi and LAN) and leverages a unique video transmission method – LRT™. This allows you to deliver rock-solid content in practically every scenario – on the move and in remote or crowded locations.
VERSATILE – ENRICH YOUR LIVE CONTENT
Solo can be connected to any professional camera with both SDI and HDMI options, allowing you to live stream video in full HD, going beyond smartphone quality.