LiveU Solo HDMI Video/Audio Encoder
Professional-grade wireless video encoder for one-touch HD streaming to all online places
LiveU Solo is a light and compact live-streaming device that uses LiveU's patented cellular bonding technology to create a single, super robust connection and dynamically adapts the video quality to changing conditions.
Price : $950.00
Usually Ships within 24 Hours.
PROTOCOL AND CELLULAR BONDING
LiveU's reliable transport protocol and patented cellular bonding creates a single, super robust connection. It dynamically adapts the video quality to changing conditions in the field.
The encoder uses the same broadcast technology from LiveU that global television broadcasters use daily for their live remote coverage instead of alternative, expensive bandwidth solutions.
LIVEU SOLO
LiveU Solo is a professional-grade wireless video encoder offering
one-touch streaming to Facebook Live and YouTube, as well as other
popular social media networks and online channels. The light and
compact Solo is perfectly suited for any type of mobile use allowing you
to stream live video from anywhere.
SIMPLE – STREAM DIRECTLY TO LEADING SOCIAL NETWORKS
Just connect LiveU Solo to your camera, log into the web-based Solo
portal to select your streaming destination and go live!
RELIABLE – GO LIVE FROM ANYWHERE
Solo combines up to four connections (2 cellular modems, Wi-Fi and
LAN) and leverages a unique video transmission method – LRT™. This
allows you to deliver rock-solid content in practically every scenario –
on the move and in remote or crowded locations.
VERSATILE – ENRICH YOUR LIVE CONTENT
Solo can be connected to any professional camera with both SDI and
HDMI options, allowing you to live stream video in full HD, going
beyond smartphone quality
ADVANTAGES
• One-touch integration with Facebook Live, YouTube, Twitch and other popular platforms.
• Uses LiveU's unique LRT method for consistent and high-quality live streaming over the Internet.
• Connects to any camera via  HDMI options for full HD streaming, beyond cellphone quality.
• Connect two cellular modems with Wi-Fi and LAN, creating one broad connection point.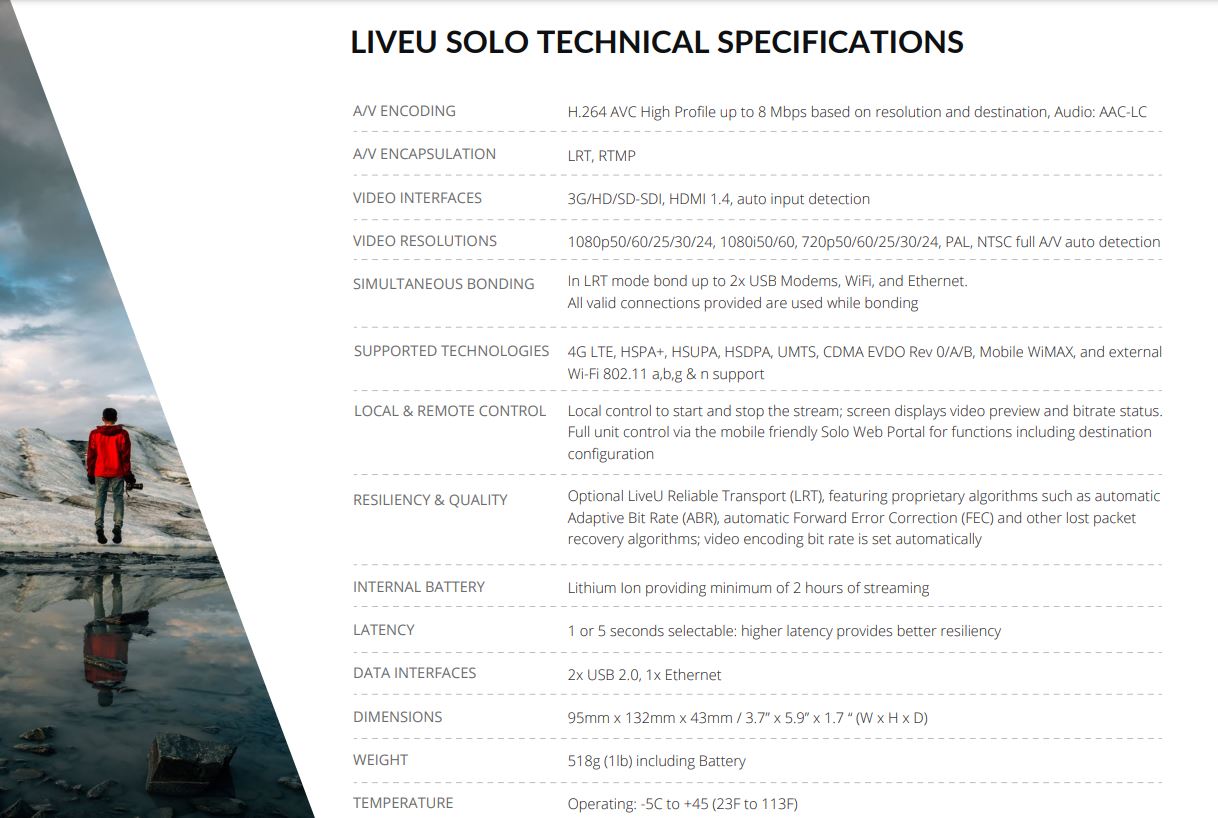 Let's Get You Broadcasting
Feel free to contact us at any time. We're here to help.
2022 All rights reserved © ECS – European Communication Services