LIVEU SOLO
LiveU Solo is a professional-grade wireless video encoder offering
one-touch streaming to Facebook Live and YouTube, as well as other
popular social media networks and online channels. The light andcompact Solo is perfectly suited for any type of mobile use allowing you
to stream live video from anywhere.
SIMPLE – STREAM DIRECTLY TO LEADING SOCIAL NETWORKS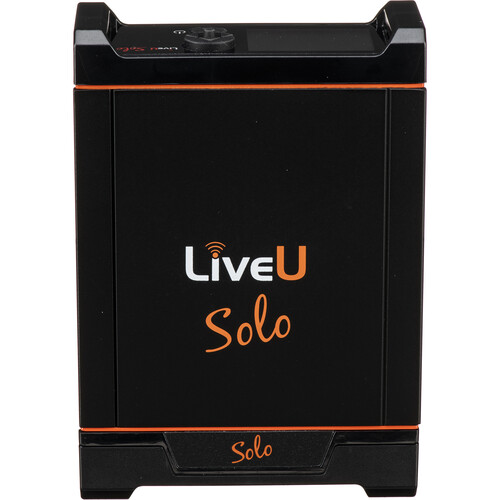 Just connect LiveU Solo to your camera, log into the web-based Solo
portal to select your streaming destination and go live!
RELIABLE – GO LIVE FROM ANYWHERE
Solo combines up to four connections (2 cellular modems, Wi-Fi and
LAN) and leverages a unique video transmission method – LRT™. This
allows you to deliver rock-solid content in practically every scenario –on the move and in remote or crowded locations.
VERSATILE – ENRICH YOUR LIVE CONTENT
Solo can be connected to any professional camera with both SDI and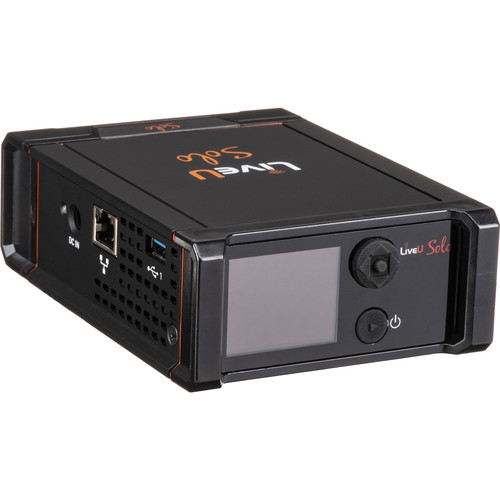 HDMI options, allowing you to live stream video in full HD, going
beyond smartphone quality
ADVANTAGES
• One-touch integration with Facebook Live, YouTube, Twitch and other popular platforms.
• Uses LiveU's unique LRT method for consistent and high-quality live streaming over the Internet.
• Connects to any camera via  HDMI options for full HD streaming, beyond cellphone quality.
• Connect two cellular modems with Wi-Fi and LAN, creating one broad connection point.
About Cellular Bonding Technology
Cellular bonding, if you are not familiar with the concept, is a method of pulling together a variety of cellular network connections into one single, more powerful and stable internet connection that can be used to produce reliable live streaming events. Cellular bonding is popular with various types of content creators who need to ensure their news story, fashion show, concert or other event is presented to their TV, YouTube, Facebook Live or other audience in a smooth, glitch-free manner.
The LiveU Solo HDMI Encoder leverages our proprietary hardware and software to combine the available bandwidth of multiple cellular networks into the aforementioned robust and stable internet connection you need to ensure a trouble-free live stream. This is accomplished by dividing data produced by the video source into small packets which are then distributed across the cellular networks being accessed by the device. The recipient of all these data packets then reassembles them to produce the live stream that is presented to the intended audience.
The process of cellular bonding helps to minimize the effects of fluctuating signals, network congestion, signal interference and latency which have historically been the bane of the remote creator's existence. In short, the cellular bonding capability of the LiveU Solo HDMI Encoder allows content creators to generate live streams of consistently high quality, thereby enhancing audience engagement.
Benefits of Stable Live Streaming
The ability of the LiveU Solo HDMI Encoder to produce stable live streaming even in challenging conditions provides an array of benefits for content creators. Those benefits include:
Build trust with your audience
The cellular bonding technology of the LiveU Solo enables creators to maintain a consistent connection with their audience and to cultivate their trust.
Cost savings when compared to video production
With the LiveU Solo in your production arsenal, all you need is a camera and an internet connection to produce a stable live stream.
Cost-effective video marketing
A live streaming event with a popular influencer is a proven and cost-effective way to expand your audience without having to empty your bank account to produce professional quality video.