LU800 LiveU Multi Camera 4K SDI: Unlimited Possibilities
If your goal is to create more professional-looking productions while keeping transmission costs down the LU800 Multi Camera 4K SDI unit is the way to go.
This groundbreaking all-in-one pro-level field unit is specifically designed to facilitate live coverage of breaking news and dynamic sporting events. You get multi-camera production capability along with high-res video, crystal clear audio and leading-edge transmission capability all bundled into a single 5G unit.
Unparalleled coverage
With the LU800's multi-camera capability and potent IP bonding of as many as 14 connections, you can set up 4 high-res feeds and channel them through a single unit. And if you find yourself in an area where bandwidth is limited you're not out of options. You can still send 1 high-res feed and switch between the unit itself or your remote studio.
The LU800 also allows you to take remote control of any IP-based devices enabling you to take your remote productions to unheard-of levels. A pair of bi-directional audio channels along with tally light and video return enable high-quality field-station coms in all conditions.
Proven reliability
The LU800 was designed with 5G firmly in mind. Leveraging what we learned from collaborating on numerous EU 5G projects we've created a unit that incorporates custom 5G video delivery algorithms while providing comprehensive support for evolution of the 5G network. The unmatched quality of service and proven reliability make it a favourite with production teams that live or die by the quality of their remote product.
The LU800 has 8, 5G internal dual SIM modems and corresponding high-efficiency antennas built into the unit. This configuration has proven its reliability again and again during highly successful live 5G broadcasts conducted in partnership with leading European, American and Asia/Pacific cellular providers.
Peerless quality
Professionals demand high-quality video performance and the LU800 with its 4Kp60, 10-bit HDR transmission capabilities provides it. The LU800 is built on a foundation of LiveU's patented HEVC bonding technology that enables up to 70Mbs HEVC live video encoding. Colour depth and richness are unmatched and with as many as 16 audio channels your production will sound every bit as great as it looks.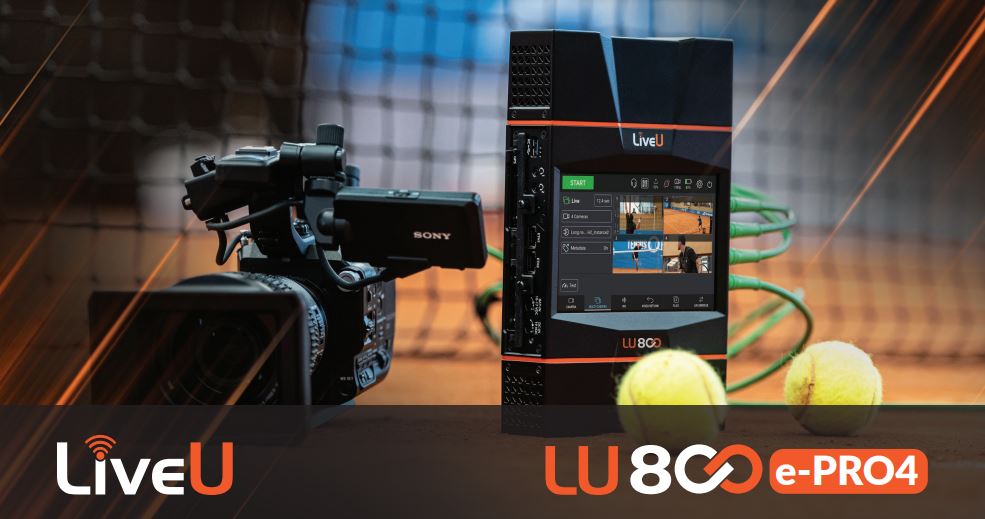 Multi-Camera, Production-Level Contribution Encoder
Enrich your productions and cover more events at a fraction of the cost of traditional transmission methods. The LU800e-PRO4 is LiveU's cost-effective, multi-camera contribution encoder, designed for live sports production.
The robust encoder combines multi-camera and superior video/audio capabilities with mission-critical transmission over the public internet, leveraging LiveU's Reliable Transport (LRT™) protocol for the highest resiliency.
The LU800e-PRO4 enables high-end remote productions (REMI), supporting four fully frame-synced feeds in high resolution of up to 1080p60 from a single portable unit. It's very easy to switch between feeds. Delivering the highest-quality video performance, the unit offers up to 4Kp60 10-bit HDR transmission for optimal color depth and richness as well as 16 embedded audio channels.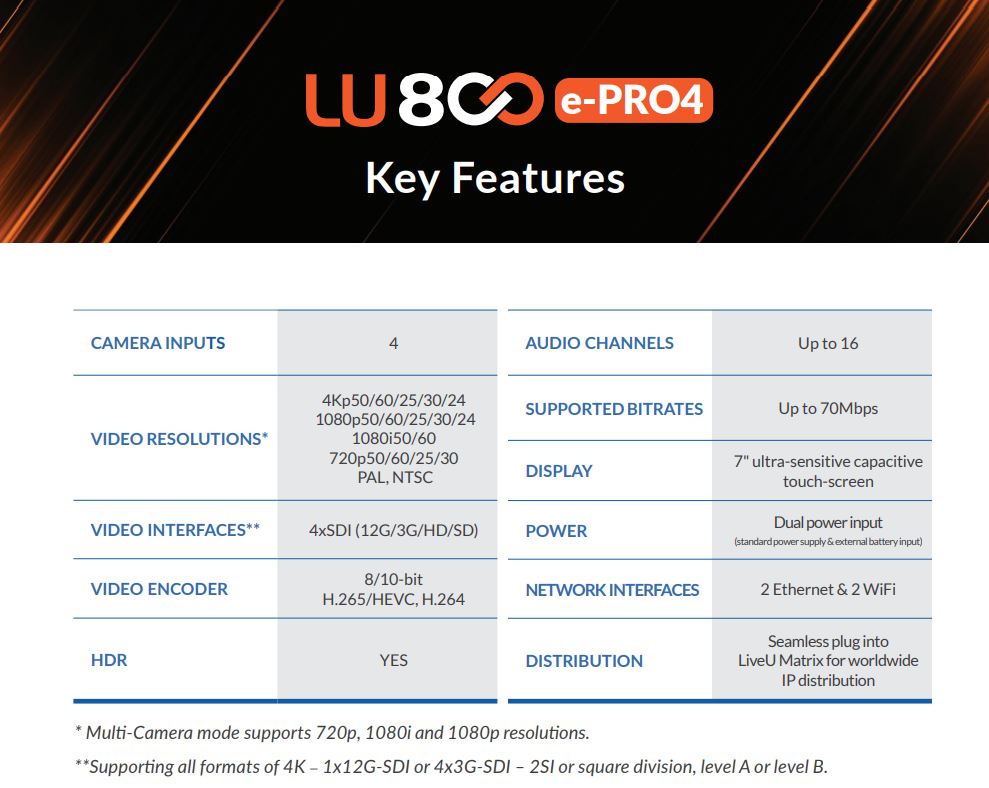 Multi-camera production
One unit – four cameras. Engage your audience with a rich multi-angle production. The LU800e-PRO4 supports up to four fully frame-synced feeds in high resolution (up to 1080p60) from a single unit.