1U Rack Mount Decoder Server – 2 SDI Outputs. SW license included. Upgradable to 4 SDIOutputs by SW license (PN LU2000-UPGR-QUAD)
A RANGE OF CONFIGURATIONS
The LU2000 is a highly versatile unit, with multiple configurations that include hardware-hosted MMH software and cloud server operation.
It uses LiveU Reliable Transport (LRT) protocol, which includes patented Dynamic Adaptive Bitrate control and Forward Error Correction. , allowing the optimization of live video delivery to different classes of receiver, dynamically adjusting bitrate and quality for the best viewer experience at any time.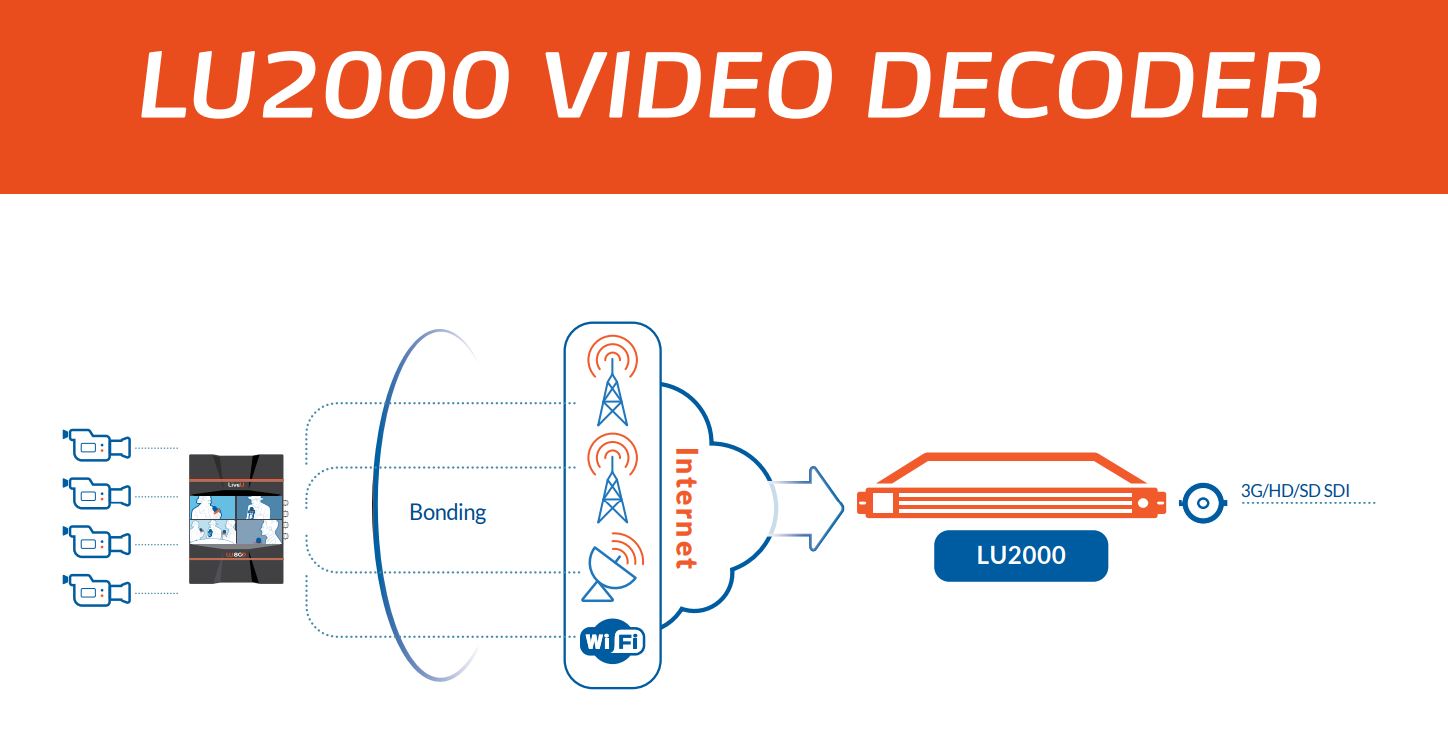 INTEGRATION IS SEAMLESS
With LU2000 you have an unlimited number of preview feeds. The remote operator can select the feed that's actually sent out over SDI for local consumption, or streamed over the network for CDN or any other online video streaming.
This decoder/transceiver integrates perfectly with LiveU's multi-layered live video ecosystem. Operators can monitor and control live streams via LiveU Central – the unified management platform for LiveU's field and studio units.
Multi-Camera Capability
The LU2000 is a compact HD video decoding server that allows you to receive, decode, stream and distribute multi-camera feeds or HEVC/H.264 video.
Once you familiarize yourself with the LU2000 it will quickly become a vital part of your live stream workflow. The LU2000 is the ideal studio-based source for feeds originating with any LiveU remote unit as well as those originating from the Matrix cloud video platform.
The Powerful Decoder You Need
The LU2000 is able to output dual HD transmissions, and with an upgrade to quad outputs, it is capable of supporting as many as four independent HD transmissions from as many different remote units. With additional minor upgrades it will also support multi-camera production by accepting 4 feeds originating from a single LU800.
Choose Your Output Type
With the LU2000 the remote operator can view multiple preview feeds and then determine which one to use for local consumption. Designed to enable optimal workflow versatility, LU2000 output options include SDI, NDI, MPEG-TS, RTMP and SRT.
Cloud-based Live Stream Management
With the LU2000 the operator can monitor and manage various live streams by way of the LiveU Central cloud-based management platform. Just one more example of how versatility and flexibility are baked into the LiveU system.
LiveU Matrix Enabled
The LU2000 is available in a variety of configurations designed to enable remote creators to be their best. That includes hardware-hosted MMH software and a fully cloud based solution. Each LU2000 can support as many as 4 independent HD transmissions and is capable of receiving up to 4 synced video feeds.
Share your live streams with a multitude of internal and external endpoints by way of cost-effective IP-based distribution using the public internet.
Conclusion
The LU2000 output decoder server allows you to receive, decode and distribute low latency, high res HD video from an in-the-field production team or any remote facility within the LiveU Central cloud environment. In short order, this 1 RU rack mount server is destined to become an integral component of your live video workflow enabling you to ramp up audience engagement by way of the LiveU LRT protocol.