LU4000 – 1U Rack Mount 4K Decoder Server – 1x4K/4xHD SDI Outputs. SW license included. Required for high HD/4K video bit rate transmission (above 20Mbps) 4K/quad HD rack-mount decoder for the highest video quality. Receive, decode, playout and stream any HEVC/H.264 4K or multi-camera video feeds.
LIVE-U RELIABLE TRANSPORT (LRT)
LU4000 integrates LiveU Reliable Transport (LRT). This powerful feature includes patented Dynamic Adaptive Bitrate control and Forward Error Correction.
This allows you to optimize live video delivery to different classes of receiver, while dynamically adjusting bitrate and quality for the best viewer experience at any time.
SEAMLESS INTEGRATION
The LU4000 decoder can receive an unlimited number of preview feeds. This gives the remote operator the flexibility to select the feed used to send out over the 12G-SDI for local consumption.
The LU4000 integrates seamlessly with LiveU's multi-layered live video ecosystem, enabling operators to monitor and control live streams via LiveU Central, the unified management platform for LiveU's field and studio units.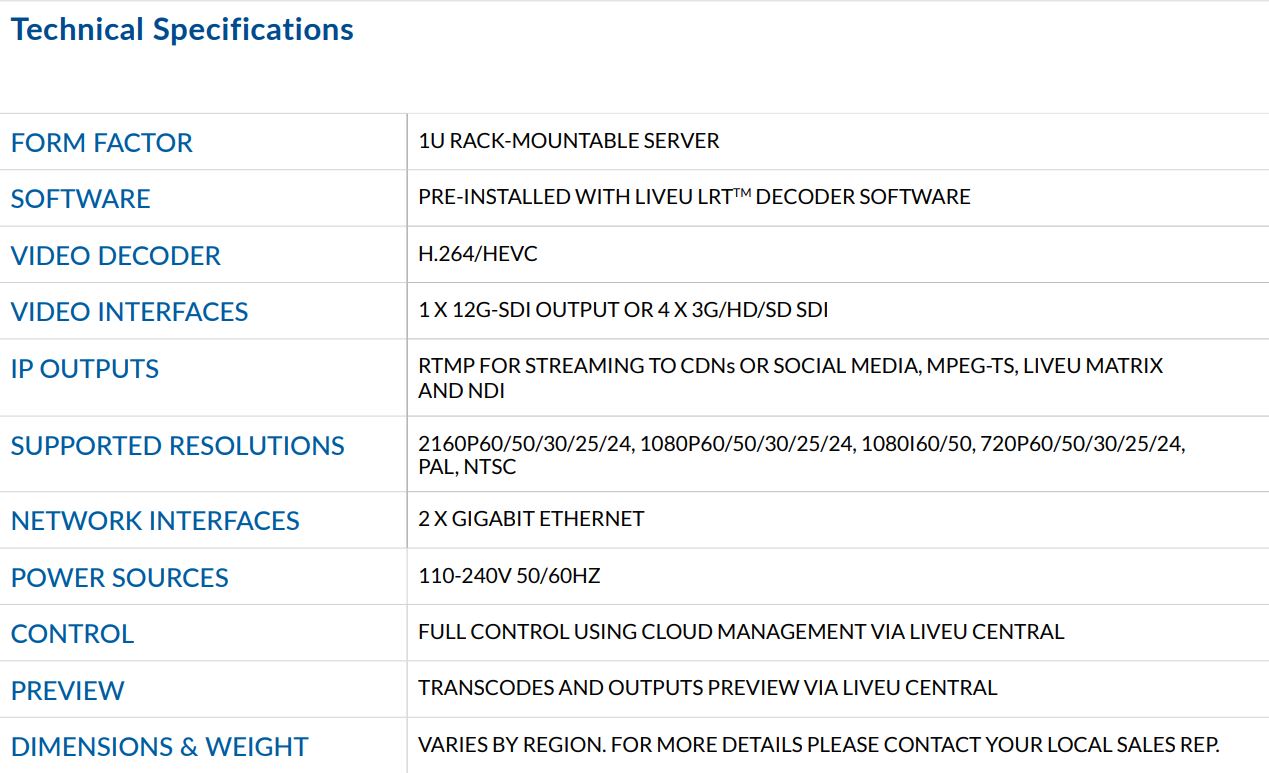 Interested to know more about the product? Feel free to contact us at any time. We're here to help.
United Kingdom
Address: 85 Great Portland Street London, W1W 7LT
Phone: +44 (0) 02038134398
Sales@ecs-tv.com
Ethiopia
Address: House A03-01/439, Woreda 03 Bole, Addis Ababa
Sales@ecs-tv.com
Israel
Mazze St. 12 Tel Aviv 6521325
Phone: +972 54-4949070
Sales@ecs-tv.com