Overview
The LU4000 Single Output 4K / Quad HD Server allows you to decode and distribute high-res video from any remote location including your production van or the LiveU cloud environment with low latency. This standard size (1 RU) rack-mounted server offers a choice of HEVC/H.264 decoding for 4K60 video distribution by way of a 12G-SDI output, or 1080p60 video by way of four 3G-SDI outputs.
The remarkable LU4000 will also support retransmission of IP video via Real Time Messaging Protocol (RTMP), MPEG transport stream, NDI or LiveU Matrix via GbE for Local Area Networks. The LU4000 works effortlessly within the LiveU Central cloud platform and is fully compatible with other LiveU tech including LU800 field units.
Multi-Camera Video Feeds
The LU4000 Single Output 4K / Quad HD rackmount decoder will quickly become the backbone of your broadcast studio enabling high-res, multi-camera production. Effortlessly receive, decode and distribute any HEVC/H.264 4K video or multi-camera video feeds.
Facilitating Your Live Video Workflow
The LU4000 acts as the nexus of your workflow accepting and distributing remote live feeds originating with any LiveU field unit or from the LiveU Matrix cloud platform. The LU4000 allows you to optimize live video delivery with LiveU Reliable Transport that integrates various video delivery techniques into a single protocol.
A True Multi-Purpose Decoder
As the name implies the LU4000 Single Output 4K / Quad HD Server will support one 4K transmission via 12G – SDI or up to 4 (hence "quad") HD transmissions originating with different units via 4 x 3G – HD/SD-SDI. Multi-camera productions are no problem as the unit will receive and distribute up to 4 synced feeds.
The LU4000 is engineered to optimize workflow flexibility with multiple preview feeds and output options including MPEG-TS, NDI, RTMP, SDI and SRT. The unit provides the remote operator with the ability to select which feeds are distributed for local consumption.
IP-Based Distribution
With the LU4000 you can effortlessly share live feeds with multiple internal and external endpoints in a cost-effective manner by way of IP-based distribution via the internet. The unit also comes with LiveU LRT decoder software pre-installed.
LU4000 – 1U Rack Mount 4K Decoder Server – 1x4K/4xHD SDI Outputs. SW license included. Required for high HD/4K video bit rate transmission (above 20Mbps) 4K/quad HD rack-mount decoder for the highest video quality. Receive, decode, playout and stream any HEVC/H.264 4K or multi-camera video feeds.
LIVE-U RELIABLE TRANSPORT (LRT)
LU4000 integrates LiveU Reliable Transport (LRT). This powerful feature includes patented Dynamic Adaptive Bitrate control and Forward Error Correction.
This allows you to optimize live video delivery to different classes of receiver, while dynamically adjusting bitrate and quality for the best viewer experience at any time.
SEAMLESS INTEGRATION
The LU4000 decoder can receive an unlimited number of preview feeds. This gives the remote operator the flexibility to select the feed used to send out over the 12G-SDI for local consumption.
The LU4000 integrates seamlessly with LiveU's multi-layered live video ecosystem, enabling operators to monitor and control live streams via LiveU Central, the unified management platform for LiveU's field and studio units.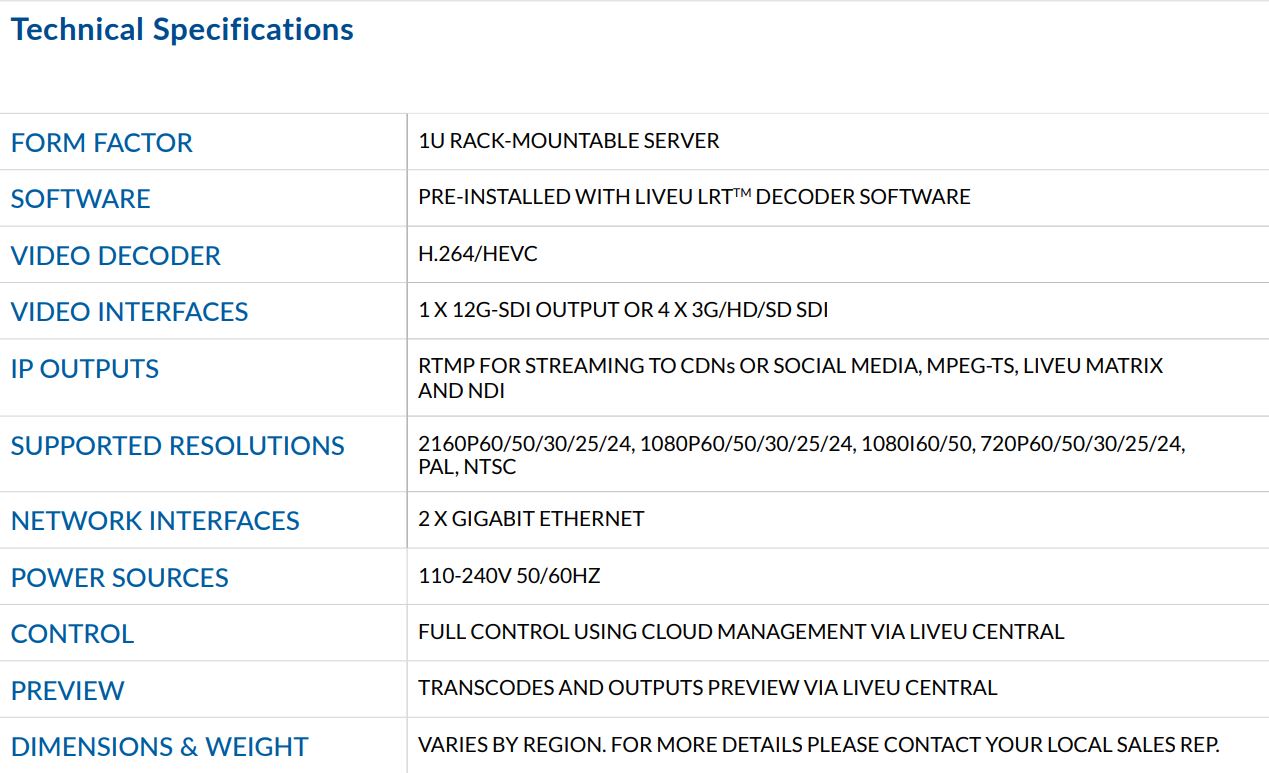 Interested to know more about the product? Feel free to contact us at any time. We're here to help.
United Kingdom
Address: 85 Great Portland Street London, W1W 7LT
Phone: +44 (0) 02038134398
Sales@ecs-tv.com
Ethiopia
Address: House A03-01/439, Woreda 03 Bole, Addis Ababa
Sales@ecs-tv.com
Israel
Mazze St. 12 Tel Aviv 6521325
Phone: +972 54-4949070
Sales@ecs-tv.com