Provides exceptional performance, security, resilience, and flexibility for live video streaming over IP networks
Offers advanced processing, monitoring, and reliability features to ensure high-quality live video transmission
Supports ultra-low latency acceleration, program mapping, transcoding, transmuxing, and more
Includes error correction, bandwidth shaping, and real-time feedback mechanisms
Usually ships within 24 Hours
UNIVERSAL MEDIA GATEWAY AND VIDEO PROCESSING SOLUTION
Zixi Software Defined Video Platform (SDVP) features Zixi Broadcaster, a universal media gateway that delivers exceptional performance, security, resilience, and flexibility. With advanced in-flight processing, monitoring, and reliability, Zixi Broadcaster enables high-quality live video routes over any IP network. It supports ultra-low latency acceleration, transcoding, transmuxing, program mapping, on-demand recording, and packaged distribution optimized for any device. Zixi Broadcaster provides error correction, bandwidth shaping, and real-time feedback for premium live video transmission over any network, including commodity internet and mobile networks, for live event and linear production, contribution, primary distribution, re-distribution and OTT workflows.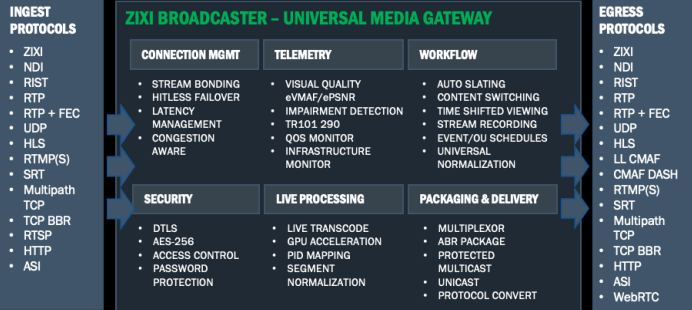 Key Benefits
Specifications
Key Benefits
Ultra-Low Latency Live Video Management
High-Performance Video Throughput & Processing Efficiency
Wide Support for Video Formats & Delivery Protocols
Layered Security with End-to-End Encryption
Scalable Deployments On-Prem, Virtual, or Cloud
Intuitive User Dashboards & Easily Integratable REST Open API.
Specifications
Feel free to contact us at any time. We're here to help.
2023 All rights reserved © ECS – European Communication Services