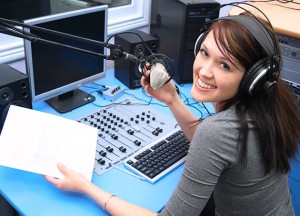 Radio Distribution
ECS supplies the optimal communications solution for every radio channel. Reaching every part of the globe, our tailored turn-key media delivery solutions provide radio channels and networks with distribution every place your audience resides, whether geographically or over the Internet.
From our U.K.-based ground and technology services center, we deliver radio services custom made to your requirements and budget. ECS' radio services are based on years of experience and familiarity with the industry.
We use advanced technologies to bring your content in any format to where it matters: to your listening audience. Our modular formats – from a single, specific service to comprehensive turnkey solutions – are what enable you to build and expand your business. Whether your transmission is digital or analogue, we design, build and manage provide the solution.
Our passionate radio team enables your vision and your content to be delivered to your audience, and works with you to reach audiences via every available means.
Designing Radio Networks
Our radio networks design knowledge will meet your unique needs by offering everything you require. From antenna design, spectrum planning, site acquisition, vendor management, procurement services, and distribution design, we assist your development by helping you see the future and then realize that potential.
Superior Transmission Expertise
To maximize your signals, we find the best and most efficient methods for broadcasting your signals. To reach your audience, we find the most expedient path while simultaneously adhering to the regulatory environment, ensuring compliance with often complex regulations.
Round-the-Clock Management and Technical Support
Our dedicated 24/7/365 technical and engineering service group ensures the seamless delivery of your programming – it is crucial that your listeners can switch on and enjoy uninterrupted radio, round-the-clock. Our team allows you to focus on running and expanding your business, and if there is a technical challenge, ECS is there to provide solutions for every issue.
Global Content Distribution
Taking your signal around the world is a specialty that not every communications solutions provider is equipped to handle. Whether by satellite, fibre or Internet (or any combination of these) we have the capacity to make this happen and ensure that your broadcast signal is received world wide.
Designing radio networks. Superior transmission expertise. 24/7 management and tech support. Global content distribution. Regulatory compliance. Digital or analog, local or via the World Wide Web, our technology and expertise ensure your broadcast is available wherever and however your business plan demands. ECS' vast experience in implementing and managing radio communications services enable you to worry about managing your business, while we manage the tools that broaden your radio broadcast market.