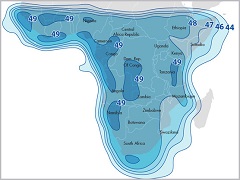 ECS now offers TV Broadcast services over Africa also on the ABS3A at 3°W:
* Direct To Home Platform over West, East Africa and the French Speaking countries
* Quality Distribution Services
* Superior HDTV and SDTV Broadcast
* Backhaul Broadcast Satellite Services
ABS3A is at 3°W, offering very good performance in Ku-band to Sub Saharan Beam in Africa over the West and also East countries.
The channels will be received with 90-100cm dishes all over the KU band beam. DVBS and DVB S2 formats are available.
Contact us for more information:  Sales@ecs-tv.com