LiveU Solo SDI/HDMI Encoder
LIVEU SOLO TECHNICAL SPECIFICATIONS
A/V Encoding : H.264 AVC High Profile up to 8 Mbps based on resolution and destination, Audio: AAC-LC
A/V Encapsulation : LRT, RTMP
Video Interfaces : 3G/HD/SD-SDI, HDMI 1.4, auto input detection
Video Resolutions : 1080p50/60/25/30/24, 1080i50/60, 720p50/60/25/30/24, PAL, NTSC full A/V auto detection
Simultaneous Bonding : In LRT mode bond up to 2x USB Modems, WiFi, and Ethernet.
All valid connections provided are used while bonding
Supported Technologies : 4G LTE, HSPA+, HSUPA, HSDPA, UMTS, CDMA EVDO Rev 0/A/B, Mobile WiMAX, and external
Wi-Fi 802.11 a,b,g & n support
Local & Remote Control : Local control to start and stop the stream; screen displays video preview and bitrate status. Full unit control via the mobile friendly Solo Web Portal for functions including destination
configuration.
Resiliency & Quality : Optional LiveU Reliable Transport (LRT), featuring proprietary algorithms such as automatic
Adaptive Bit Rate (ABR), automatic Forward Error Correction (FEC) and other lost packet
recovery algorithms; video encoding bit rate is set automatically
Internal Battery : Lithium Ion providing minimum of 2 hours of streaming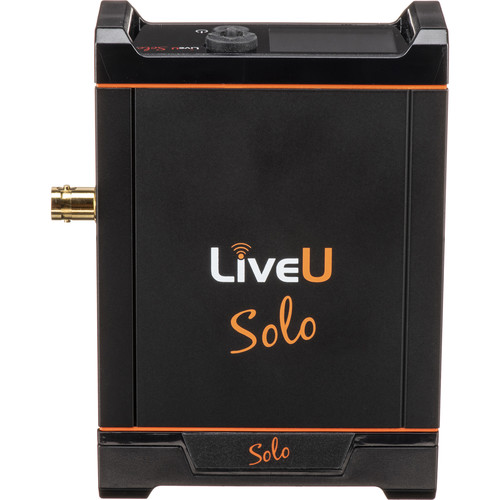 Data Interfaces : 2x USB 2.0, 1x Ethernet
Dimensions : 95mm x 132mm x 43mm / 3.7" x 5.9" x 1.7 " (W x H x D)
Weigth: 518g (1lb) including Battery
Temperature : Operating: -5C to +45 (23F to 113F)
Key Features
Compact All-in-One Streaming Solution
SDI and HDMI Video Inputs
Connect via Cellular, Wi-Fi & Ethernet
Uses LiveU's Cloud Services
ADVANTAGES
• One-touch integration with Facebook Live, YouTube, Twitch and other popular platforms.
• Uses LiveU's unique LRT method for consistent and high-quality live streaming over the Internet.
• Connects to any camera via SDI or HDMI options for full HD streaming, beyond cellphone quality.
• Connect two cellular modems with Wi-Fi and LAN, creating one broad connection point.

Features
H.264 AVC high-profile video encoder, 1080p 50/60/25/30/24, 1080i 50/60, 720p 50/60/25/30/24, PAL, NTSC
Stop/start, preview video, monitor connectivity status and battery life both on-unit and in the web-based portal
Simultaneously bond up to four network links including support for two 4G LTE cellular or WiMAX modems, Wi-Fi, and Ethernet
A rechargeable internal battery provides up to three hours of continuous streaming