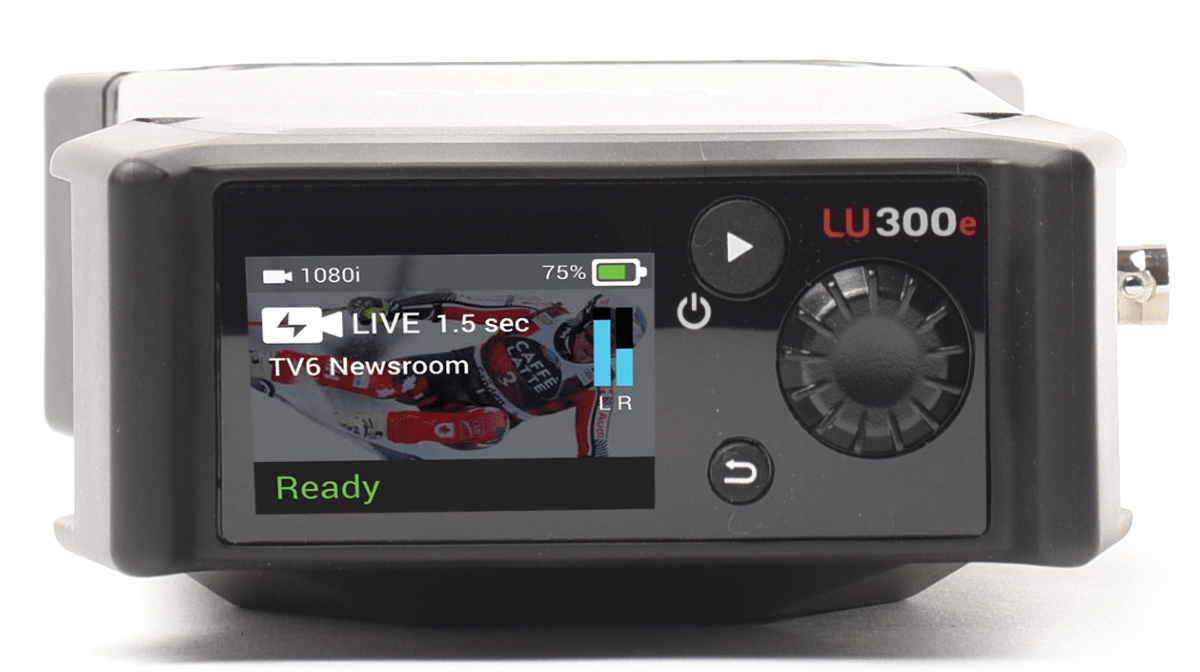 HARDWARE IS HEVC-ENCODED
Exploiting its built-in HEVC encoding technology, the LU300 field unit has both
high-quality video performance and extreme bandwidth efficiency. It is highly adaptable, serving either as a standalone video encoder or as a LiveU DataBridge mobile hotspot in the field.
HANDY SIZE
The LU300 will go anywhere. It weighs just over 900 grams (2 lbs) and is available in a pouch or camera-mount configuration. It bonds up to 6 connections: two LTE-Advanced internal modems, two external modems, plus WiFi and LAN.
MULTIPLE BENEFITS
• Dual-encoding for Live and Store functionality
• Supports DataBridge mobile hotspot mode for general connectivity
• Enlarged 2.2″ display with improved resolution and dramatic improvement in visibility under sunlight conditions
• New JOG controller makes control of functions very easy
• Long battery life (includes 3-hour internal battery time)
• Strong CPU enables super-fast file upload
The USB Modem supports the following standards:
 Long Term Evolution (LTE)
 Dual Cell High-speed Packet Access Plus (DC-HSPA+)
 High-speed Packet Access Plus (HSPA+)
 High-Speed Uplink Packet Access (HSUPA)
 High-Speed Downlink Packet Access (HSDPA)
 Universal Mobile Telecommunications System (UMTS)
 Enhanced Data Rates for Global Evolution (EDGE)
 General Packet Radio Service (GPRS)
 Global System for Mobile Communications (GSM)
 Wireless Local Area Network as WiFi AP(WLAN)